ABOUT US
WEBDADI REMOVE THE OBSTACLES TO SUCCESSFUL SALES & MARKETING BY DELIVERING A WEBSITE, DIGITAL MARKETING & CRM SOFTWARE ALL ON ONE PLATFORM
Businesses experience all sorts of problems with their Website and CRM software. If you're reading this, you might be one of them. Perhaps...
You can't update your Website quickly or without being charged £100's of pounds
Your Website doesn't rank on Google or generate enough lead enquiries
Your Website is outdated and doesn't reflect who you are as a company
You can't follow up enquiries effectively or don't have visibility of whose been contacted
Your staff have to key in the leads from you Website and they are not followed up quickly enough
Your data isn't secure or doesn't have the regulatory compliance you need
At Webdadi, we believe in removing these obstacles. By giving you a website that does what it's supposed to; generate leads for your business. But what sets us apart is that we give you visibility of your leads so you can contact them as quickly as possible, and track their progress to ensure no golden opportunity is missed.
The Website & CRM package that:
Drives opportunity | Builds reputation | Delivers outstanding customer experience
Our Latest Work
Church and Hawes Celebrate the Launch of their New Website
Church and Hawes Celebrate the Launch of their New Website
Church and Hawes have been successfully selling homes across Essex for over 45 years. With branches in Danbury, South Woodham Ferrers, Burnham on Crouch, and Maldon, Church and Hawes are a market leading independent Estate and Letting Agents with an impressive combined 130 years of experience across the senior team.
Since opening doors in 1977, Church and Hawes have cultivated a reputation for providing a high standard of customer service and are renowned for providing a first-class service for all their clients.
Directors Robert...
Stunning New Website For Milestone & Collis
We are very pleased to announce the launch of a stunning new website for our latest client, Milestone & Collis.
Founded in 1890, Milestone & Collis are one of the oldest, and most successful estate agencies in Twickenham, London. Run by their two highly skilled directors, Antony and Albena Robson, as well as being supported by their outstanding team of staff, the business has built a very strong and ever-growing client base in the area.
However, with a website that was restricting the business from landing more leads, the agency approached our team for a brand-new website. After several...
Incredible New Website For Compton Reeback
We are pleased to announce the launch of an incredible new website for our fantastic client, Compton Reeback.
Founded by the talented and experienced team of directors, Brian Compton and Julian Reeback, in 1995, Compton Reeback has become of the most successful and popular estate agencies in Maida Vale, London. Branding themselves 'the no ordinary agency', the group of property experts are incredibly focused on providing the best possible experience for their clients and will make sure they're nothing less than delighted with their service.
As a client of ours already, the...
Amazing New Website For One Of London's Leading Luxury Estate Agencies
We are proud to announce the launch of an amazing new website for one of London's leading luxury estate agencies, Garton Jones.
Founded by the husband and wife duo, Charlie, and Miranda in 2003, the agency has become one of the most popular and well trusted agencies in London. The business has accumulated nearly twenty years of experience in the property sector and takes great pride in their best-in-class boutique service with a friendly local agent approach. Not only that, but as an independent estate agency, they recognize that their dedicated and talented team of staff are their businesses'...
Fantastic New Website For One Of Edinburgh's Newest Estate Agencies
We are very pleased to announce the launch of a fantastic new website for one of Edinburgh's newest estate agencies, Cadzow.
Branded one of the best letting agents in Edinburgh, Cadzow is set to be a hugely popular and well liked agency in the area. The business owners have accumulated over twenty years of experience in the property sector, and so with that and the hard work of their dedicated and talented team, has been able to build an impressive reputation and client base.
But yet with a website that didn't reflect these strengths and one which was preventing the business from...
North Yorkshire's Leading Estate Agency Celebrates Launch Of New Website
We are proud to announce the launch of a brand-new website for one of Yorkshire's newest and most exciting estate agents, Cornerstone Leeds.
Based in North Leeds, Cornerstone Leeds is one of the leading independent estate agents in the area. The agency is run by their two highly skilled and successful managing directors, James and Zoe, as well as their dedicated team of staff who pledge to deliver a professional and bespoke service when either selling or letting a client's property. As a result of their hard work, the business has built a hugely popular client base and impressive...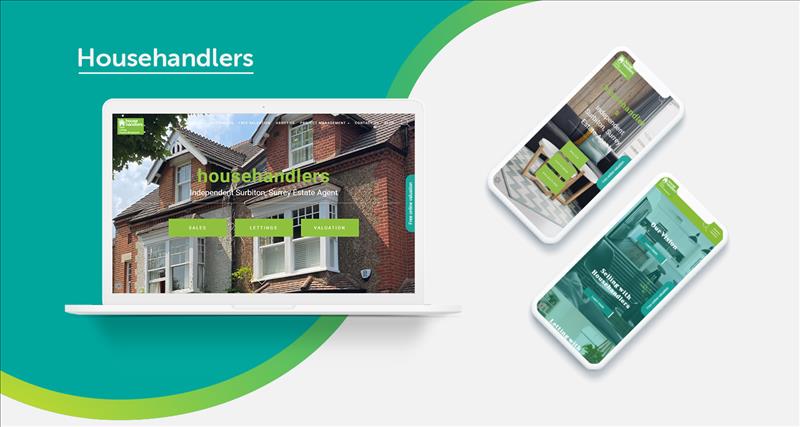 One of Surrey's leading estate agencies, celebrates the launch of a brand new website
We're delighted to announce the launch of a brand new foundation website with a bespoke homepage for one of Surrey's leading estate agents, Househandlers.
Based in Surbiton, Surrey, Househandlers are one of the leading independent and hybrid estate agents in the area. Led by their experienced and successful director, Gillian, the agency has forged an impressive reputation and hugely popular client base. Not only that, but their customers are also incredibly pleased with the unique and high end service they receive, which is all made possible by the agency's personal and bespoke...
Brand New Website For Oxford's Most Recently Established Property Funding Consultants, Carbon Oxford
We're thrilled to announce the launch of a brand new website for Oxford's recently established property funding consultants, Carbon Oxford.
Opening their doors in Oxford during one of the most turbulent times for the property and financial industries, the startup company has got off to a strong start. With over fifty years of combined experience between their directors, Carbon Oxford offer expert advice and specialist services to private and commercial clients in Oxfordshire, the home counties and London.
As a brand new company, Carbon Oxford needed a completely new website...
Impressive New Website For Rolfe East International
We're very pleased to announce the launch of a brand new website for Rolfe East International.
As the overseas arm of the Rolfe East Estate Agency brand, Rolf East International forms one of three websites requested by the group but with a Mediterranean twist. With luxurious properties dotted across the gorgeous locations of Southern Europe, including Costa del Sol and Murcia, Rolfe East International boasts an impressive portfolio. Moreover, with their director, Chris Baker, leading the team, clients know they are in safe hands with his extended wealth of experience in the international...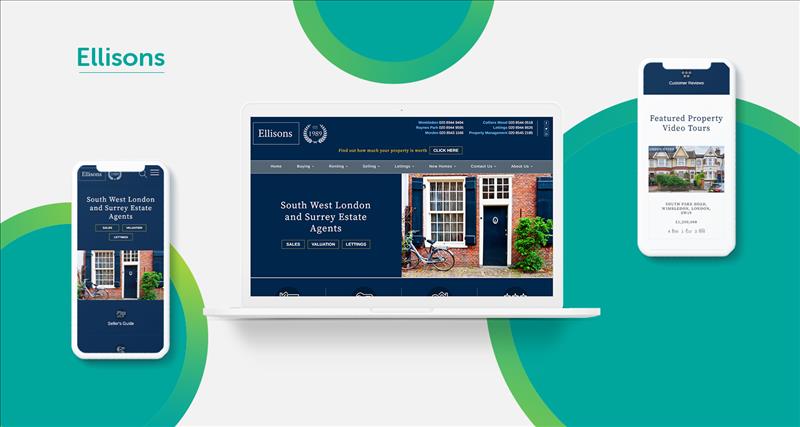 Fantastic New Atom Upgrade For South West London's Leading Estate Agency, Ellisons
We're thrilled to announce that the team here at Webdadi have launched an amazing new ATOM upgrade for South West London's leading estate agency, Ellisons.
Founded in 1989 by their distinguished director, Sean Purtill, Ellisons have over the years forged an impressive and established reputation in Merton. As the oldest truly independent estate agents in Merton, they pride themselves on their local team and unparalleled knowledge.

Realising that their website needed an upgrade to reflect these strengths, they requested a website upgrade from the team here at Webdadi....
"ALREADY RECEIVING INCREASED ENQUIRIES"
"May I take this opportunity to thank the Webdadi team, in particular Andrew Shields who we liaised, in respect of the implementation of our new, responsive website. Only one week since launch and we are already receiving increased numbers of web enquiries from it whilst the mobile browsing is vastly improved now."
Jon Hadfield
Sales Director
Rolfe East
"A PLEASURE TO WORK WITH"
"The whole team at Webdadi has been a pleasure to work with during the development and launch of our new website. Their training of the web features makes it easy to use, and the team is always available to help answer all questions. You can tell they care about their customers' success with their innovation updates and attention to user experience."
Britt Holcom
Marketing Manager, Living in London
"WE GOT THE RIGHT PEOPLE TO DO IT"
"We were looking to develop our website and we believe we got the right people to do it. Our website was very basic but Webdadi has developed the website with a fantastic look and moreover I would say it's the 'BEST'. The Webdadi Team is very efficient and always try their best to resolve all customer issues. Max always keeps us updated with development and replies instantly to all queries. They also helped us with getting our new logo and our branding.
We are very happy with their services and would recommend them highly."
Gurwin Heer
Austin D'Arcy
"OVER THE MOON"
"Very impressed with all of your team, you have been so helpful. I am very happy with the site and am pleased I can update myself. We are over the moon with the website and the service you have provided us. Thanks a million."
Catherine McGowan
McGowan homes
"A GREAT RESULT!"
"Great job and I think site looks great and aesthetically an enormous improvement. Huge credit should go to both Jacqui and Andrew for both their input and patience in getting this done.
A great result reflecting great service and technical know how. Well done all and let's hope it keeps us in business for another year!"
Alex Maile
Lawson Rutter